DOG PROBLEMS
Training a young dog is part of proper dog care. In the long run you will have a better relationship if you both go to some dog training classes early on. If you have a serious behaviour problem with your dog, it is important to get good advice from somebody who sees the dog in action.  Look for a properly qualified person (see How to choose a good dog trainer), rather than relying on the man next door or the breeder. There is not much on this page about dog problems because there are better people than me who have good websites. Google The Dogs Trust for a lot of very good info under help and advice.
INDEX
OTHER LINKS
COAPE Association of Pet Behaviourists and Trainers. Find a COAPE trainer or behaviourist in your area.
COAPE in Poland. The same principles of training and behaviour consultations as in the UK.
The Dogs Trust   A must website. Information on common dog behaviour problems, poisonous plants, collies as pets, greyhounds and lurchers etc. Generous permission to download these in large quantities, so they can be used by small rescues and given away with the dogs.
Association of Pet Dog Trainers -Find a good UK trainer who won't kick or yank your dog from the Association of Pet Dog Trainers. Also some advice on common problems.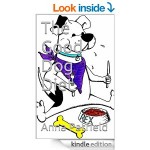 The Association of Pet Behaviour Counsellors   If you need help with a pet behavioural problem.
For a sensible book on what to feed your dog, read The Good Dog Diet by Anna Patfield. Order at amazon.