WINTERBOURNE BASSET STONE CIRCLE. SU 094755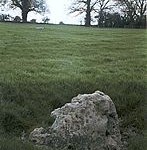 This ruined circle lies up the hill from Winterbourne Basset village by the side of a muddy track, Vize Lane to Broad Hinton. There are three visible stones in a grass field – all low and only two visible from afar. A huge outlying stone stands on the bank of the crossroads where Vize Lane becomes a tarmac road and crossed the road from Winterbourne Basset to Clyffe Pypard. Looking up the hill from one of the low stones, one can see the big outlier on the horizon. Today the three visible stones seem part of only a small circle but Aubrey Burll's book, The Stone Circles of the British Isles, (Yale 1976), says that it was once a large concentric stone circle, 71.3 meters in diameter. At the centre was a pillar, higher than the relatively low stones that surrounded it.
William Stukeley in "Abury, a Temple of the British Druids, with Some Others Described", writes: "At Winterburn-basset, a little north of Abury, in a field north-west of the church, upon elevated ground, is a double circle of stones concentric, 60 cubits diameter. Many of the stones have late been carried away. West of it is a single, broad, flat, and high stone, standing by itself. And about as far northward from the circle, in a ploughed field, is a barrow set round with, or rather compos¹d of large stones. I take this double circle to have been a family chapel, as we may call it, to an archdruid dwelling near thereabouts, whilst Abury was his cathedral."
COATE STONE CIRCLE. SU 181824
<p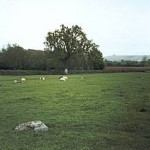 >A ruined stone circle in a no man's land of double track roads between Swindon and the M4 – thus difficult to find the right road which is Day House lane. Once on the road, which intersects some of the circle, the stones are visible opposite Day House, a farm. This ruined circle is not easy to imagine in its prime. As well as something like a semi- circle of five visible stones in the field, lower than the sheep that graze round them, there is a possible low outlier at the side of the farm next to a farm building. Richard Jefferies, the nature writer who was brought up at Coate farm, mentioned "the sarsens scatted about in these meadows, and weighing a ton" in his essay on "The Old House at Coate."
THE DEVIL'S DEN, CLATFORD BOTTOM. SU 1520 6965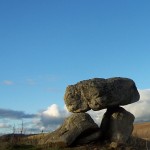 This may be the remains of a dolmen grave or possibly of a long barrow that succeeded this type of monument. There was brief excavation in l921, in which the monument was fortified by concrete at one end. This is one of the many striking monuments which are to be found not far from Avebury. It would have been there before the stone circles were built.
THE POLISHER STONE, FIFIELD DOWN. SU 128 715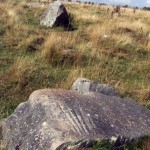 Up from Avebury along the Ridgeway towards Barberry castle, just past boundary stones on the side of the track and near the head of a gallop. Said to be a Neolithic stone, used for polishing stone axes, but I don't know how the grooves can be dated exactly. It could have been used to strop shepherd's tools later in history rather than prehistory. Julian Cope says it is estimated to have been used for 1,200 years (see his Modern Antiquarian book). There is a similar stone in Leafield village, Oxon (see above) but without the smooth indent. Looking at the natural pyramid of the sarsen behind it, I wonder if it is part of an stone setting – though with so many sarsens it is difficult to tell.
THE CUCKOO STONE DURRINGTON SU 1454 4335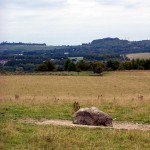 In the field next to Woodhenge lies the Cuckoo Stone – just a large sarsen. Fallen but apparently standing in the time of Sir Richard Colt Hoare, the antiquarian (1758-1838) who wrote a history of Wiltshire. There are cuckoo stones in Derbyshire and Yorkshire as well as Wiltshire. It was a probably standing stone in Neolithic times, not far from a now invisible long barrow. For more detail go to Sheffield University's page here