GUINEA PIGS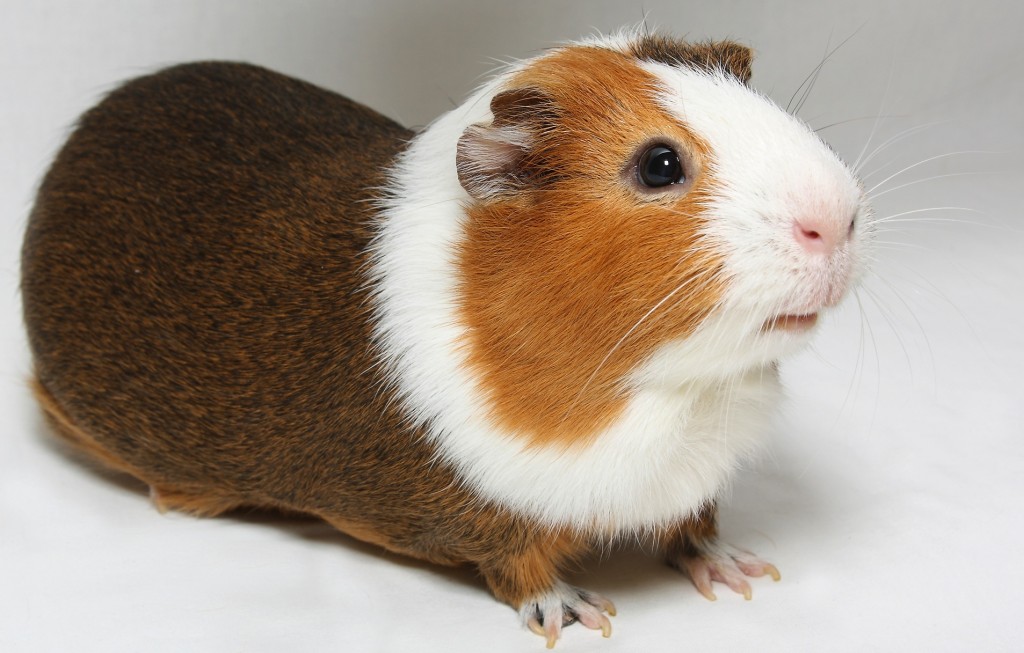 Pet guinea pigs are often poorly looked after because people don't understand their needs. Guinea pigs have been domesticated for several thousand years and in South America they are still kept, rather like backyard chickens, for food. Nobody quite knows why they are called guinea pigs, since they are not from Guinea and they are not pigs. Possibly it is a corruption of Guiana. Our domestic guinea pigs are less aggressive than wild ones (Kunzl & Sascher 1999).
Wild guinea pigs don't live alone. They are intensely social. They form family groups of several females with a home range of about 33 square metres (or 35 square yards) per individual and a male visiting several females (Asher et al., 2008). They play together and rest together. So guinea pigs should always be kept with at least one other guinea pig for company. They feel more secure if they are in a social group or at least one of a pair. Keeping them in solitary confinement is cruel and unnatural. Social ties are very important to them and individuals bond closely (Kaiser, et al., 2010)
They are prey animals and have to stay alert all the time so as not to be eaten. Pet guinea pigs, therefore, need hiding places and deep hay litter which they can tunnel through – like the tall grass of their homeland. They will get very stressed if they are handled too much. There were about 400,000 kept as pets in the UK in 2012.
Scent is important to guinea pigs. They can recognise the smell of familiar guinea pigs, the smell of their own mother, and the smell of another guinea pig ready for mating. They have excellent hearing and suffer if they are kept in an intensely noisy environment. It is crucial to give them the correct diet. They are also creatures of habit and find it difficult to cope with changes of routine or feeding or equipment (Wolfensohn & Lloyd 2003)
They live for about three years in the wild, though a domesticated pet guinea pig can live up to 9 years (Meyer 2003). A lifespan of 5-6 years is more common (McBride 2014). Because they are prey animals, they are always on the alert for danger. They can see above as well as behind them. And their babies are born  furry and able to eat grass within a few days of birth – so that they can run away almost as soon as they are born (McBride 2011).
Best beginners book is Guinea Pigs. Understanding and Caring for your Pet by Dr Anne McBride. The better you care for your guinea pigs, the happier they and you will be (Normando and Gelli 2011).
Some topics are on the same page so if you don't find them at the top, then scroll down. There are helpful links below the references.
WHERE CAN I BUY A GUINEA PIG?
SHOULD I KEEP TWO GUINEA PIGS TOGETHER?
HOW DO I INTRODUCE A NEW GUINEA PIG?
HOW SHOULD I HOUSE MY OUTDOOR GUINEA PIGS?
HOW SHOULD I HOUSE MY INDOOR GUINEA PIGS?
HOW OFTEN SHOULD I CLEAN OUT MY GUINEA PIGS' HOME?
WHEN DOES A GUINEA PIG NEED TO SEE A VET?
WHAT SHOULD I FEED MY GUINEA PIGS?
WHAT CAN I FEED AS TREATS?
DO MY GUINEA PIGS NEED THINGS TO CHEW?
GUINEA PIG SKIN PROBLEMS
SHOULD I NEUTER MY GUINEA PIGS?
CAN I KEEP GUINEA PIGS IN THE HOUSE?
CAN I LITTER TRAIN MY GUINEA PIGS?
HOW DO I KEEP MY GUINEA PIGS HEALTHY IN ALL WEATHERS?
HOW TO HANDLE YOUR GUINEA PIG
FUN AND TOYS FOR YOUR GUINEA PIGS
HOW CAN I KEEP MY GUINEA PIGS SAFE FROM PREDATORS?
CAN I TRAIN MY GUINEA PIGS TO DO TRICKS?
GUINEA PIGS AND THEIR TEETH
WHAT IS MY GUINEA PIG SAYING?
DO I NEED TO GROOM MY GUINEA PIGS?
REFERENCES
Asher, M., Lippmann, T., Epplen, J. T., Kraus, C., Trillmich, F & Sachser, N., (2008), 'Large males dominate: ecology, social organization, and mating system of wild cavies, the ancestors of the guinea pig,' Behavioral Ecology and Sociobiology, 62, 1509-1521.
Kaiser, S., Kruger, C. &  Sachser, N, (2010), 'The Guinea Pig,' in eds Hubrecht & Kirkwood, J., The UFAW Handbook on Care and Management of Laboratory and other Research Animals, Eight Edition, Wiley-Blackwell, Chichester, UK, 381-398
Kunzl, C., & Sascher, N., (1999), 'The Behavioral Endocrinology of Domestication: A Comparison between the Domestic Guinea Pig (Cavia aperea f. porcellus) and Its Wild Ancestor, the Cavy (Cavia aperea),' Hormones and Behavior, 35, 28–37
Lee Y., (2010), 'Guinea Pigs,', ed Tyner, V. V., Behavior of Exotic Pets, Chichester, UK, Blackwell-Wiley, 78-90.
Mayer, J., 'Natural History of the Guinea Pig (Cavia porcellus),' Exotic Mammal Medicine & Surgery, 1, 7.
McBride, A., (2011), Guinea Pigs. Understanding and caring for your pet, Magnet & Steel.
McBride, A., (2014), 'Rabbit Behaviour – welfare and handling in a clinical environment,' BVBA rabbit in clinic webinar 5 August 2014.
Normando, S. &  Gelli, D. (2011), 'Behavioral complaints and owners' satisfaction in rabbits, mustelids, and rodents kept as pets,' Journal of Veterinary Behavior, 6, 337-342
Wolfensohn, S. & Lloyd, M., (2003), Handbook of Laboratory Animal Management and Welfare, Third edition, Oxford, UK, Blackwell Publishing.
USEFUL LINKS
www.cavycages.com – Lovely guinea pig cages which allow you to build little guinea pig cities with walkways etc from cubes and coroplast. This site sells to Canada and the USA but will ship elsewhere at a cost! Worth looking at to get good ideas for DIY.
Wheek and Squeak guinea pig rescue and boarding has lots of good information.
Guinea Pig Welfare website has good information and links,
The British Association of Rodentologists has a lot of good information about guinea pigs.
Guinea Pig Magazine is full of good advice and details of local rescue places. A must read for the enthusiast.
John Chitty is a vet who specialises in exotic pets here.
This section of my website is dedicated to the memory of Peter Gurney whose life work was the welfare of the guinea pig.