THE TARRY STONE, COOKHAM. SU 898 855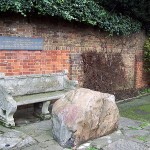 The Tarry Stone, a large sarsen which formerly marked the boundary of the grounds of the Abbot of Cirencester. Having been removed to a private garden, it was in 1909 restored by Sir George Young to the parish and re-erected near its old site then moved again to the correct boundary site in l937.
Medieval rather than prehistoric but of interest to me because village games, possibly church ales, were held here before 1506 – see my book "The First Ever English Olimpicks" for more information about early games.